Dtal2
---
Dtal2 command is an evolution of Dtal available on my page.
It serves to draw the slope patterns.
To use, call DTAL2 on the command line.
Then click on to fixed line (item 1 in the diagram) and then the mobile line (item 2 in the diagram):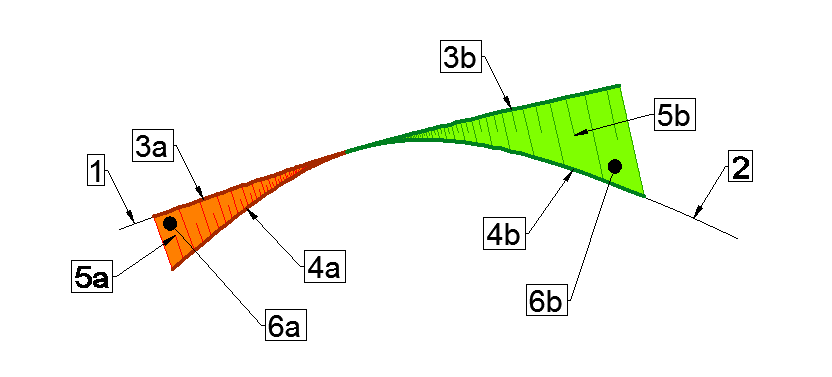 You can click the "Configure" option, this screen will appear:
In it, choice the type of the slope pattern:
Natural - Use on natural slopes.
If you like this, you can choose the layers of the slope pattern, polyline and hatch in "Neutral" item
Designed - Use in engineered slopes, ie, to be built.
You can choose different layers for situations cut, fill or even in situations where the slope is neutralized
You can also choose:
Percentage - tells you what percentage of the line length of the comb should be used to space the next line
Orth - Choose whether the slopes are orthogonal to the fixed line or mobile line
Draw hatches - Choose whether the program should draw hatches under the slope patterns (item 6 in the diagram)
Draw 3D - Pick up the comb and polylines crest and foot should be drawn in 3D
Draw crest and foot - Choose whether the polylines crest and foot must be drawn (items 3 and 4 of the diagram)
Group - Choose whether entities should be grouped together in a converted block, or just drawn
Convention - Choose whether the program should draw:

Only line (item 5 of the diagram)
Line with triangle leaked on top
Line with filled triangle on top
You can still click the "Save" button to save these settings and use in future designs.
---